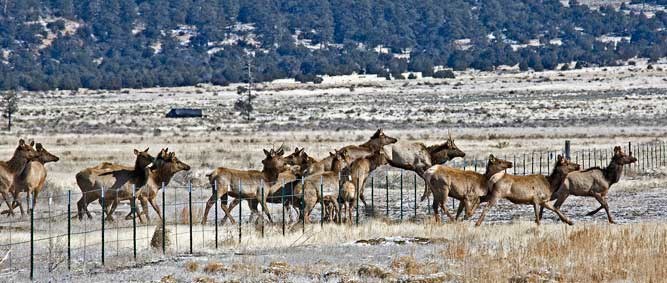 Project Summary
There is a critical need to develop connectivity maps for a broad array of Oregon's terrestrial wildlife species. Many species rely on the ability to move throughout the landscape to fulfill their daily and seasonal needs for access to food, shelter, and opportunities to reproduce. Human changes to the landscape often restrict the ability of wildlife to move by adding barriers, inducing changes in their behavior, impacting critical migration stopover sites, and increasing habitat fragmentation.
Mapping and maintaining movement corridors helps maintain population connectivity and biodiversity, aiding in the restoration of at-risk species. Providing and conserving habitat connectivity is also a key management strategy to preserve species and ecosystem processes under a changing climate. To date, efforts to map connected habitat corridors in Oregon have primarily been based on expert opinion that insufficiently supports decision-making regarding species' mobility and habitat connectivity needs.
In 2016, a diverse group of stakeholders convened the Oregon Habitat Connectivity Consortium (OHCC), a group formed to promote functional natural landscape connectivity and to mitigate barriers to wildlife movement at multiple scales throughout Oregon and the surrounding region. Members of the OHCC include ODFW, Portland State University, ODOT, USFWS, USFS, BLM, The Nature Conservancy, Oregon Wildlife Foundation, Defenders of Wildlife, Burns Paiute Tribe, and Samara Group. The OHCC, led by ODFW, developed an implementation plan for how best to assess and map habitat connectivity for terrestrial wildlife throughout Oregon.
The implementation plan will guide the execution of the Oregon Connectivity Assessment and Mapping Project (OCAMP), which began in early 2020. OCAMP is a multi-year, collaborative effort to analyze and map statewide terrestrial wildlife habitat connectivity at fine resolutions for up to 60 species. OCAMP aims to link landscapes for wildlife by identifying current wildlife habitat connectivity throughout the state for a wide diversity of species, representing a variety of taxa, movement types, dispersal capabilities, and sensitivity to anthropogenic threats. These species' connectivity models will then be complied to highlight priority wildlife corridors for all species in Oregon. The maps and models produced for OCAMP will aid in statewide planning and prioritization efforts to maintain functional habitat connectivity; help direct on-the-ground efforts for acquisition, restoration, and conservation of habitat for fish and wildlife; inform long-term planning documents for managed lands; guide granting efforts; inform land use development, including expansion of urban growth boundaries, permitting for renewable energy development, and development of sensitive habitats; and aid in mitigating transportation issues, such as identifying areas where wildlife passage structures could best reduce wildlife-vehicle collisions.
species
OCAMP species will be selected by Ecoregion, using a collaborative process informed by species biologists and conservation practitioners across the state. All modeling will occur across each species' range. In spring of 2019, we piloted our species selection process and completed species selection for Oregon's Coast Range Ecoregion.
Species Selected for OCAMP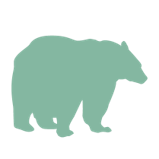 Species Selection
We are currently selecting species for the remainder of Oregon's Ecoregions! We still need scores for many birds and small mammals. If these are taxa you are familiar with, please consider contributing.
 The first step in the selection process is species scoring. We have developed a candidate list of 162 mammals, birds, amphibians, reptiles, and invertebrates that call Oregon home. If you have expertise and knowledge about Oregon's wildlife, your help will be invaluable in providing the information necessary to select a final subset for connectivity mapping.
To provide scores, start by downloading the species scoring form. Please fill out your name and contact information in the "READ ME" sheet. Then, navigate to a taxa of interest and select the species you'd like to score from the drop-down list. Each column in the sheet asks for information on a different criterion (things like mobility, data availability, and association with specific habitat components). Hover over the column titles for guidance on scoring. You can download a searchable master list of the candidate species here.
Use a new row for each species you'd like to score. If you want to suggest a species for consideration that is not in the candidate list, choose 'Other' from the "Species" drop-down and add the species' common name to column B, then score as you would for any other candidate.
When you've finished scoring, please save the form and email it to us at wildlife.connectivity@state.or.us.
Scoring should take only 10 to 15 minutes per species. Score as many or as few species as you'd like. The more scores we receive, the better we will be able to narrow down the candidate list and choose the best suite of species to represent Oregon's diverse wildlife and habitat types.
We recently held a webinar to provide an overview of how the candidate list was formed, illustrate use of the scoring form, and answer questions:
Frequently Asked Questions:
Q: What if I'm not an expert for a species, but I know some things about it?
A: Partially scoring a species is fine if you have some information about a species but don't feel you can answer all the criteria. If you're unsure of how to score a given criterion, it's fine to leave it blank.
Q: Is information on species home range size helpful?
A: Yes. Although it is not a formal criterion, having a sense of a candidate species' home range size is useful information for ranking species. Feel free to add home range size information to the "Comments" field or link to a publication.
Q: The candidate species I'm scoring has subspecies. Which subspecies are you interested in?
A: Unless the subspecies utilize habitat in drastically different ways (i.e. habitat for one subspecies would be impermeable to another subspecies), please provide scores generally, for the parent species. If it is necessary to provide scores for a subspecies, choose the parent species from the candidate list in column A and add the subspecies' common name in column B.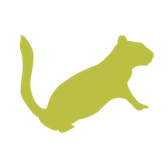 upcoming events
Please join us in helping finalize species selection for OCAMP. In May we will be holding a series of workshops to review species scores and select a final suite of species for connectivity assessment and mapping. Species will be selected by Ecoregion to help ensure all of Oregon's diverse habitats are adequately represented. Due to distancing requirements, we will be holding all workshops remotely.
Willamette Valley Species Selection Workshop
Monday, May 18th: 1:00 PM – 3:30 PM Pacific
Join the Zoom meeting for the Willamette Valley Species Selection Workshop
Klamath Mountains Species Selection Workshop
Tuesday, May 19th: 9:30 AM – 12:00 PM Pacific
Join the Zoom meeting for the Klamath Mountains Species Selection Workshop
Northern Basin and Range Species Selection Workshop
Tuesday, May 19th: 1:00 PM – 3:30 PM Pacific
Join the Zoom meeting for the Northern Basin and Range Species Selection Workshop
East and West Cascades Species Selection Workshop
Wednesday, May 20th: 9:30 AM – 12:00 PM Pacific
Join the Zoom meeting for the East and West Cascades Species Selection Workshop
Blue Mountains Species Selection Workshop
Wednesday, May 20th: 1:00 PM – 3:30 PM Pacific
Join the Zoom meeting for the Blue Mountains Species Selection Workshop
Columbia Plateau Species Selection Workshop
Thursday, May 21st: 9:30 AM – 12:00 PM Pacific
Join the Zoom meeting for the Columbia Plateau Species Selection Workshop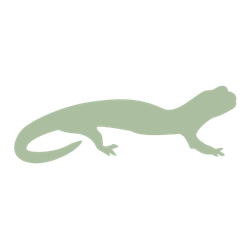 engage with us
The Oregon Department of Fish and Wildlife is seeking engagement and participation in OCAMP from additional experts and practitioners during in this three-year project. Interested in participating in species selection, providing information for model parameterization, or just staying up-to-date on OCAMP progress? Please consider lending your support by participating in one or more of the following groups:
OCAMP Network
Sign up to receive periodic emails on project progress, along with notices of upcoming opportunities to attend webinars and other events. Project updates will be sent to subscribers approximately every 6 months for the duration of the project, through December 2022. Join the OCAMP Network here.
Species Experts 
If you have expertise and knowledge about Oregon's wildlife, you are invited to help us select species for connectivity mapping. From a candidate list of a variety of mammals, birds, reptiles, amphibians, and invertebrates, individuals will be asked to evaluate species suitability for connectivity mapping based on criteria such as species mobility, sensitivity to barriers, and data availability. The species selection process will take place throughout Spring of 2020, with additional requests made periodically through 2022 for experts of selected species.  If you're interested in assisting with species selection, sign up here.
Practitioners
If you can utilize the final connectivity mapping products for your mission, planning, and/or business operations, please consider providing feedback on data needs, product accessibility, interpretability, and formatting. We will be requesting feedback starting in summer 2020, with product review requests expected in Fall of 2022. If you'd like to join the OCAMP Practitioners group, sign up here.
Stakeholder Committee
Individuals and entities that have a vested interest in OCAMP processes and outcomes are invited to participate in quarterly project progress reviews, provide feedback, and help support and promote OCAMP initiatives and products. Sign up to participate on the OCAMP Stakeholder Committee here. 
Interested in participating in all four groups? Sign up here.